Careers Education, Advice and Guidance at Lister
YEAR 11: Scroll down for up-to-date information about your post-16 options. 
Our goal is to equip you with the necessary skills and knowledge to prepare for further study and a successful career that matches your interests and abilities.
The Lister Careers Programme provides the opportunity for you to:
Develop

self-awareness

(a greater understanding of your strengths, current limitations, personal qualities, interests and values). 

Learn about

opportunities

(learn about a range of training and employment opportunities to help you prepare for the future). 

Develop

decision-making skills

(understand and evaluate the pros and cons of the options available to you and take responsibility for decision making). 
This image shows you what you can expect from your Careers journey at Lister.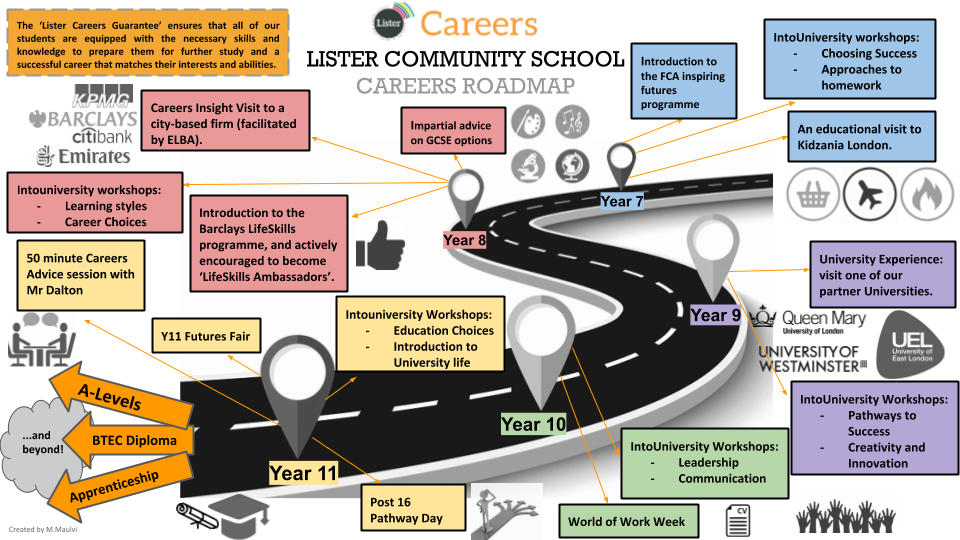 Key Links – Year 11 Post-16 Options
A range of resources to help with post-16 decisions and applications: Resource Folder
Newham post 16 Brochure: Courses for 16 – 18 Year Olds
College/Sixth-Form Assemblies and Online Resources: Spreadsheet
College/Sixth-Form Open Days and Application Deadlines: Summary Document
Additional information on Post 16 Apprenticeships are available from the Department for Education: National Apprenticeship Database
To request support from the careers team, please fill out this simple form. 
Key Links – All Students
National Careers Service Skills Assessment: Skills Health Check
National Careers Service Online Advisory Webchat: Advice Web Chat
Careers Information and Tools: www.careerpilot.org.uk
Information about Applying to University and for Jobs: https://www.prospects.ac.uk/
To request support from the careers team, please fill out this simple form.
Key Contacts
You can email any of these staff members if you have a question about careers or further study. 
Ms Hall (Assistant Headteacher – CEIAG Lead)
tessa.hall@lister.newham.sch.uk
Ms Begum (CEIAG, Alumni & Extended Services Officer)
nazmin.begum@lister.newham.sch.uk
Ms Maulvi (CEIAG, Alumni & Extended Services Assistant)
munira.maulvi@lister.newham.sch.uk
Mr Dalton (Independent Careers Adviser)
richard.dalton@lister.newham.sch.uk